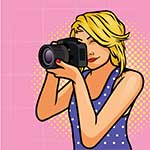 Hi, welcome to my blog about Internet Marketing and how to become a Millionaire online.
Why am I doing Internet Marketing you might ask? Well, very simple, I am passionate about Internet Marketing and creating wealth through online marketing. I want to live the Internet life style and quit my day to day job soon. My normal day to day job is being a web developer. It is not that I hate my job. I am quite content and happy coding away all day long. But what I don't like is that I don't have enough time for my family. Crunch time are the holidays. In my job I never have the same length of holiday time than my little daughter. So I have decided to start my own business and become a successful Online Entrepreneur. Maybe you are also looking for more freedom in your life? I know, money is not the most important thing in the world but it is nice to have so you have the freedom to do what you want to do. Would you like to join me on my journey to become a Millionaire? Then stay tuned and find out together with me what is working and what is a waste of time.
Come and join me in this quest. Leave your 9-5 job behind and create the life of your dreams.
One of the best programs I found so far to make money online is the one below.
WATCH FREE Training by clicking on ""Learn More Now">>