How To Start Blogging
Would you like to know how to start blogging? Don't fear, I have you covered. Today I will show you how to start your own blog and how you can do blogging for profit.
With WordPress, it is easier than ever to set up a professional looking website for only a few dollars. In this article, I will show you how to set up your own WordPress blog quickly and easily. WordPress makes it dead solid simple. You only need your own domain name and pay a few dollars for monthly hosting.
WHAT IS WORDPRESS?
WordPress is a content management system that allows users to publish documents, images and video without needing to know coding. It is open source and is based on the programming language PHP and database manager MySQL.
It runs on hosting services such as Go Daddy, HostGator and Blue Host. One of the more popular features of WordPress is its plugin architecture and templates. This allows any user, programmer or developer to create plugins which extend the functionality of the software. Currently there are over 26,000 plugins to choose from in the WordPress plugin repository. They handle security, help with search engine optimization, make it easier to enter text and much more.
So, how do you start blogging?
Think about what you want to blog about. Do you have a niche you are passionate about, e.g. cats or do you want to blog about yourself? You need to be clear first about what you want to blog as this will help you in choosing the right domain name for yourself. My favorite Domain search tool is namesilo.com. They are cheaper than other companies like GoDaddy. Say you want to blog about "Siamese cats". Go to namesilo.com and type in your desired domain name. Under the search bar your results will be displayed. In this case the name "siamesecats.com" is registered, but you still could buy any of the green coloured domain names like siamesecats.info. And if you cannot live without a .com domain scroll down under your search and the system will give you domain name suggestions. And, there are literally hundred of other extensions available now like .fashion etc. You can view all of those on the homepage of namesilo.com

Now you have your chosen your domain name you have to think about hosting. Don't buy your domain just yet if you are starting out, because with my favorite hosting company Bluehost you get a domain name for free. Below, I have included discounted pricing that I personally negotiated with Bluehost so that all of you can start a blog for cheap. And you will also receive a free blog domain through my link too. Act quickly though because I'm not sure how long these low prices will last!
Don't be put off by having to pay a monthly fee for hosting. You can choose the cheapest package which will cost you as little as one cappuccino a month.
Anyone can make money with a blog, and I was able to make the money back that I paid for blog hosting very quickly. It is well worth it to pay for blog hosting and I'm sure you will be able to make your money back quickly as well.
I am able to work from home, I can travel whenever I want, I have a flexible schedule and more. I am absolutely loving life and I can't believe how much my life has improved in just the past few years. And you can do that too.
Below, I have included discounted pricing that I personally negotiated with Bluehost so that all of you can start a blog for cheap. You will also receive a free blog domain through my link too. Act quickly though because I'm not sure how long these low prices will last!
So go ahead, get going. Read further below the directions and sign up for BlueHost and then get your first post up!
Go to Bluehost.com and click on "Get Started Now"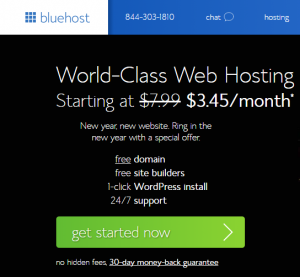 On the next page you need to choose your hosting options. If you are just starting out select the cheapest "basic" plan.

After clicking on select  the next page will ask you for a domain name. For now, let's assume you do not already have a domain name and need to buy one now. What do you want to call your site? MuffinsForTea.com? FashionForDivas.com? Think of something good.
A few more tips?
Don't use dashes. Go for SiameseCats.com, not Siamese-Cats.com.
Don't use numbers in your site name. Avoid DinnerFor2.com. Go for DinnerForTwo.com.
Get a .com if you can. If you can't, don't worry about it and choose a different extension or a different name
Enter it in the box "I Need a Domain Name" and see if it's available.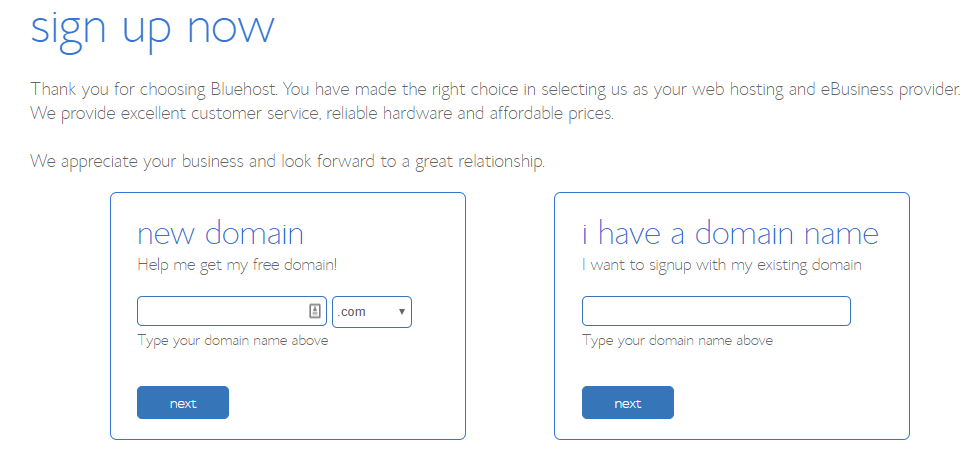 If it's available, it'll tell you "Congratulations!" Now it's time to fill out your basic personal information and credit card information (or paypal) or login with your google details. Fill that in.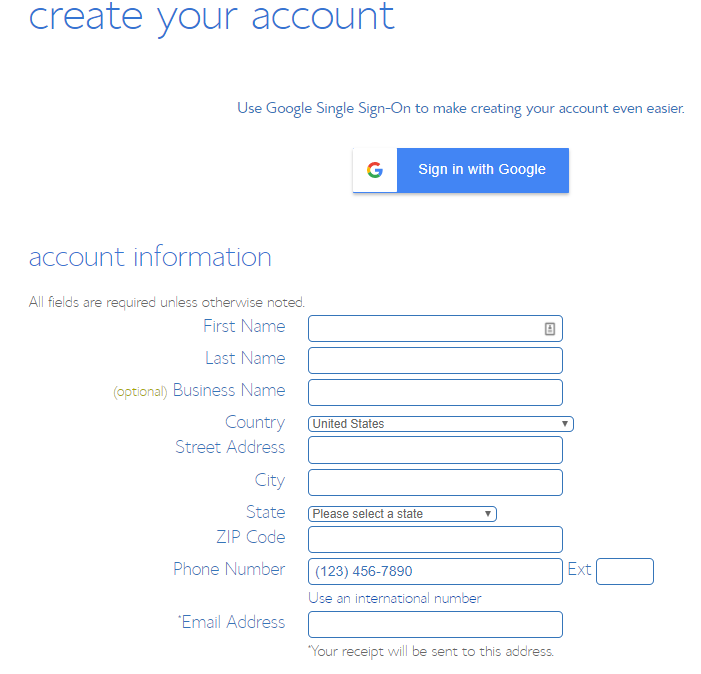 You're once again a winner. "Congratulations!" You set it up. Now it needs you to set up a password. Do that.
Once you set up the password the pages asks you to log into the account. Do that.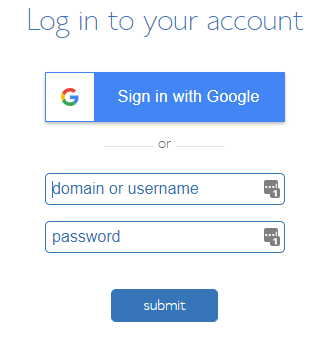 Now that you are all signed up and are able to log into your account, you can get started installing WordPress!
Installing WordPress
Find the Website section and click on "Websites", the blue icon in the middle of the screen.

No fear here. The install is very easy. Scroll to the section titled "MOJO Marketplace" and choose the "One-Click Installs" button. This will take you to a page inside MOJO Marketplace called Scripts and Platforms. The blog section is at the very top, so all you have to do here is click on the WordPress icon.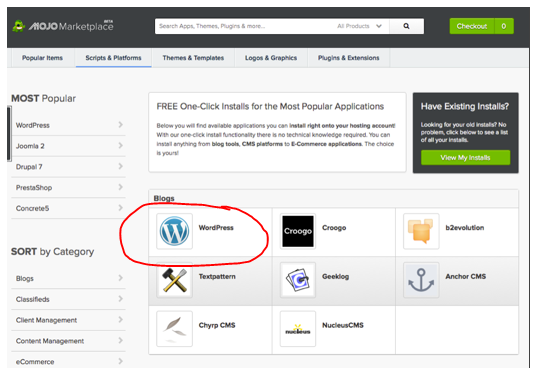 Then click on the start button for a brand new install and follow all the steps. Then click on install and a few minutes later:
WOOHOO! You now have a WordPress blog. You will have to work on the design and producing high-quality content, of course. Good luck!
To make your first post just login with the details supplied to you: http://yourblogname.com/wp-admin , fill in username and password and hit login which brings you to the admin panel of your brand new WordPress site.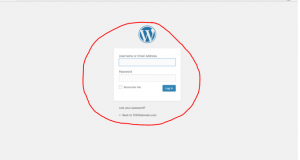 Once you are logged in, at the top left corner click on Add new post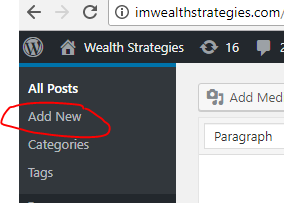 This brings you to your blog page. Insert the header and your text and click publish and you have published your first post online. Hey, great stuff, but what about the look and feel of your site?
You don't need to be a Designer to have a great looking site. There are thousands of free and paid wordpress themes on the Internet. A wordpress theme is a complete webpage design. When you are starting out on a shoe string budget choose a free theme. There are plenty of themes on the Internet. Just type "free wordpress theme" into google. If you want some more features, I recommend you to choose a paid theme. There are themes out there under $100 dollars which are as good as if you would have had a personal designer. I like the features of "Opitmize Press" as you can easily connect your blog with your autoresponder like Aweber at a later stage with Optimize Press. But that is more advanced stuff and will be covered in a different post.